News
Laugh, Sing & Dance!
Everyone knows that a contented life requires good health. A proper diet, some regime of exercise and sufficient rest are all necessary to keep our bodies strong and fit. If we neglect these demands, our bodies become weakened and resistance wanes. Susceptible, because of reduced immunity to infection, we may develop aches, pains, or even dis-eases, eventually becoming seriously ill.
More important, but less well known, is the inner self's need for spiritual nourishment and attention. We all have a soul, but do we even know why it exists? When we ignore our spiritual requirements, we become overwhelmed by negative tendencies, such as anxiety, loneliness, prejudice, greed, envy, boredom, anger and even hatred.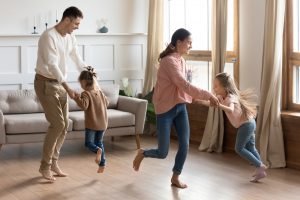 In order to counteract and prevent such subtle infections of the self, we need to incorporate into our lives a programme of self-reflection and steady inner growth, based on spiritual strength and mindful thinking. It is vital to feed the soul, not with food as we do with our physical bodies, but with whatever it takes to make your soul sing!
When we identify with the material body and lose awareness of the real self, we inevitably fear death, old age and dis-ease. We fear the loss of beauty, intelligence, strength, and so experience countless other anxieties and emotions relating to the temporary phase of our physical body's existence.
Raising our energy vibrations, through the joy of song, laughter and dance, we restore our consciousness to its original, uncontaminated state. Just look at how all the contestants on "Strictly" convey this, if you need any further proof of the power of dance! Consider, also, how our Comic Relief comedians connect the entire planet through laughter, and how our actors and musicians take emotion to a whole, new level of experience.
I rest my case and invite you to join me in my quest to conquer all fear with the power of LSD!!
The new LSD I'm talking about has nothing to do with drugs or "Lucy in the Sky with Diamonds"! It's totally free, available without prescription and simply stands for LAUGH, SING & DANCE!! ….and with 2022 being the 70th anniversary of the release of the sensational "Singin' in the Rain", back in 1952, this couldn't be a more fitting tribute to the genius of Gene Kelly!!! Yay!!!
……and talking of 70th anniversaries…… here's to joy and jubilations for all the jubilee celebrations this summer – let's laugh, sing and dance our way through all the glorious festivities.
May God save our gracious Queen!! ….and Eid Mubarak, everyone, one and ALL!!